Kiosks Terminals
for rent


Giant Smartphone/Tablet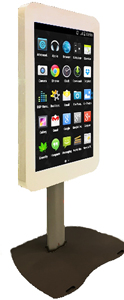 If a 5″ Smartphone is too small for you! Show your content and apps on this giant 55″ tablet.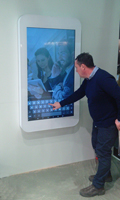 55″ Touch safety glass
Embedded PC
Android system
24/7 operation
comes with floor stand or wallmount
Friendlyway Classic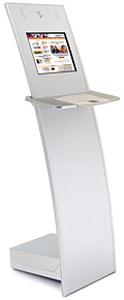 The classic was friendlyway's first product and has been for many years the standard for self-service terminals. This makes it the model to follow in the modern information technologies.The slightly curved, slim housing made of anodized aluminium creates a timeless look.The system can be used for all classic and Internet-based computer applications.The complete system reduces your installation and transportation effort. Each device is made and equipped according to your specificatio
With touchscreen or keyboard
Embedded PC
Configuration according to the customers' request
Robust aluminum housing
24/7 operation
Made in Germany
Friendlyway Impress 46″ Touchscreen

How can important messages and product presentations remain in the memory of your customers as long as possible? The friendlyway impress 46P attracts attention, increases interest in the content, and allows interactive actions by the user.
Despite its imposing size, the unit boasts high-quality materials and elegant lines. The impressive, vertically integrated, 46-inch display is sure to attract everyone's attention.
An optional touch screen allows the user to easily retrieve information directly on the screen.
The friendlyway impress 46P is the ideal partner to convey your messages effectively and with positive brand recognitio
46″ touchscreen display
Embedded PC
Configuration according to the customers' request
Robust aluminum housing
24/7 operation
Made in Germany