Kiosks Terminals
for rent


Giant Smartphone/Tablet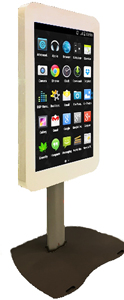 If a 5″ Smartphone is too small for you! Show your content and apps on this giant 55″ tablet.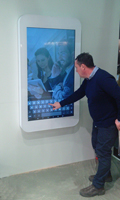 55″ Touch safety glass
Embedded PC
Android system
24/7 operation
comes with floor stand or wallmount
LED Floor Stand/ Stand-Up Display
Do you like to react quickly to market influences and inspire your customers with breathtaking animations and videos? This LED video poster is just right for you. The elegant construction is designed for indoor advertising at trade fairs, conferences, sport events, banquets, etc.
It can also be ordered with stand, hanging or wall mounting.
Up to 6 pieces can be connected to a Full HD Video Wall.
Frame Size: 630.2*2055.2mm
320 x 1080
Operation System: Android system
Operation Mode: Signal wires/ WIFI/ 4G/USB
Aluminum Alloy Integrated Frame
Slim Frame Design: 10mm
Thickness: 35mm
Super Light Design with 39kg
Friendlyway Impress 46″ Touchscreen

How can important messages and product presentations remain in the memory of your customers as long as possible? The friendlyway impress 46P attracts attention, increases interest in the content, and allows interactive actions by the user.
Despite its imposing size, the unit boasts high-quality materials and elegant lines. The impressive, vertically integrated, 46-inch display is sure to attract everyone's attention.
An optional touch screen allows the user to easily retrieve information directly on the screen.
The friendlyway impress 46P is the ideal partner to convey your messages effectively and with positive brand recognitio
46″ touchscreen display
Embedded PC
Configuration according to the customers' request
Robust aluminum housing
24/7 operation
Made in Germany