Samsung Steglos Videowall
rental, setup, installation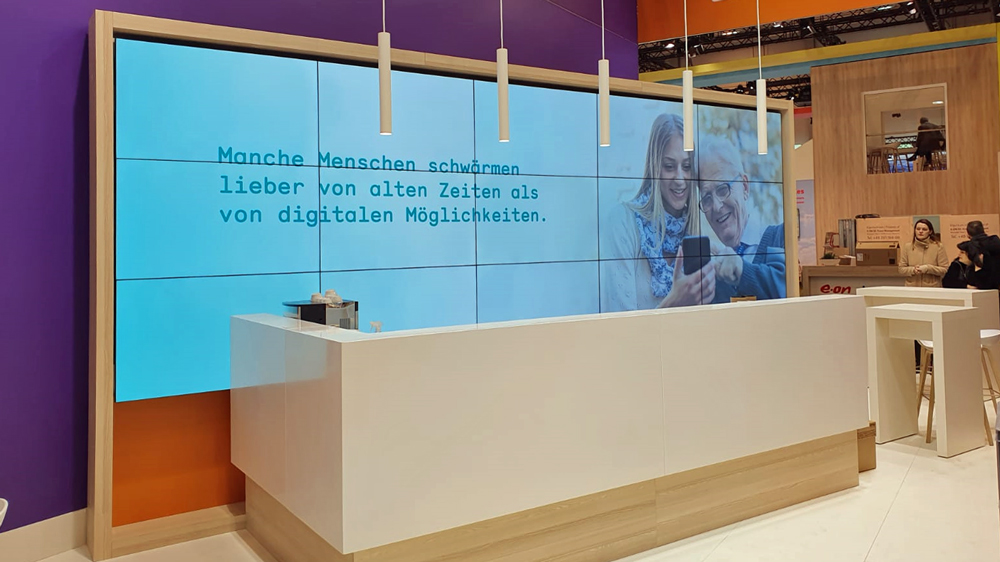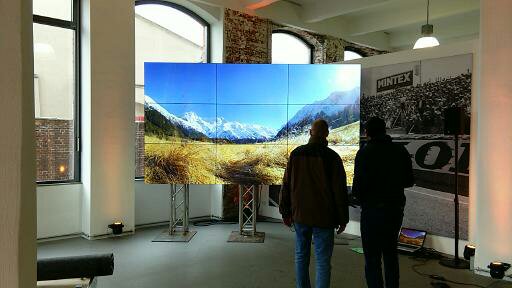 Samsung UD46A / UD55A / UD55E TFT-LED Videowall:
Larger, slimmer, lighter. With their viewing angle of 178 °, significantly higher brightness and Full HD resolution, the Samsung displays are ideal to support your presentation or event effectively!

The Samsung UD46A / UD55A / UD55E LED LFD are the spectacular displays designed specifically to deliver even the largest images with clarity and as less image loss possible with its super-slim bezel. When the video wall is assembled, bezel-to-bezel rounds up to only 5.5mm (3,5mm E Series), bringing nearly seamless experiences into your business. Unlike many of the video wall available in the market, the UD Series provides Full HD Resolution and easy installation through our unique LFD Accessories.
The E series is predestined for UHD / 4K applications: With an increase in screen size, content resolution becomes even more important to deliver impactful content. As the industry's first video walls to feature integrated DisplayPort (DP) 1.2 and HDMI ports, Samsung's UDE Series video walls can display Ultra-High Definition (UHD) contents across video wall configurations as large as 5×5 without the purchase of additional expensive devices.." (Source: Samsung) Complicated solutions (for example, special graphics cards with multiple HDMI outputs) are superfluous .
All you need is a computer with a 4K player that we will supply.
Technical Data:
Panel:
LCD Technologie a-si TFT/DID
Backlight Technologie LED
Screen Size 116,84 (46 inches) / 138,68 cm (55 inches)
Resolution: 1920 x 1080, Pixel Pitch 0,630 mm
Brightness 700 cd/m²
Contrast Ratio 4000:1
ResonseTime 8 ms (G/G)
Viewing Angle (h/v) 178°/178°
Colours:
Colours 16,7 Mio.
Signal:
Signal analog, digital
Ports: DP, 2 x HDMI™, 2 x DVI (In / Out), 15pin D-Sub, Composite Video
Ports C-series: 2 x DP (In/out), 2 x HDMI™, DVI, 15pin D-Sub, Composite Video
Plug & Play DDC DDC 2B
Electricity Consumption:
Standby < 1 W
In operation 175 W / 206 W
E-series 172W
EnergyStar
General Spezifications:
Colour black
Ultra thin frame: 1,8 mm (below/right) 3,7 mm (on top/left)
Ultra thin frame: 1,8 mm (below/right) 2,3 mm (on top/left E-series)
Wall mount VESA Norm 600 x 400 mm
Mac-compatiblea
TÜV GS
EMI CE
Specific Features:
tRS-232C Loop
DVI Loop Out für Video Walls
DP Loop Out für Video Walls (E-series)
Video-Wall-support (up to. 10 x 10 Displays)
PiP (Picture-in-Picture)/PbP (Picture-by-Picture)
MDC über RS-232C ja
MDC über RJ-45 ja
On/Off Timer
NotePC Dockingstation
Mass and weight:
Mass without stand ((w x h x d) 1023,8 x 578,4 x 96 mm / 1215,3 x 686,1 x 96 mm
Mass without stand ((w x h x d) 1213,5 x 684,3 x 96,6 mm (E-series)
Weight 18 / 24 kg/ 21,5 kg